Discover more from Joe Laverick
Ramblings from inside the cycling world, from a guy inside the cycling world.
London Lap Lay Down
What idiot would crash a TT Bike?
How different today is compared to twelve months ago. This time last year, I'd just finished my under-23 years and didn't have the results or quite enough talent to be where I wanted to be. I was lost, and I found myself spending October on a trip of Europe going city to city drinking. For the record, it was an off-season for the ages.
Come November I still had no idea, it turned out the proposed contract I had from Bike Aid wasn't worth the paper it was written on. I didn't know whether to continue, quit and go travelling or what. Come December I still felt lost but turned my mind to privateering. One last throw of the dice.
Lying on the ground of a nondescript country lane while attempting to complete a Lap of London in the fastest time possible wasn't the ending I wanted to perhaps the best season of my life, but in a way it kind of feels fitting.
I'm so grateful to those few people who simply didn't allow me to walk away from the sport, and trust me when I say it was heavily debated.
---
London Loop. It was one of those stupid ideas that you don't really believe is a reality until you're in the moment. I was looking for an end of season challenge, well to be perfectly honest, an end of season video idea to activate some sponsorship agreements.
London Loop was born.
Can I ride around London in a 9-5? How about try and ride at an average speed of 40kph. The full lap was 272km, plus 4km in the car to go over the Dartford Crossing. It was ambitious, it was different.
It was to be the perfect way to end the season. It allowed me to geek out on TT tech which was originally going to make up the latter half of my season but largely got shelved. It allowed me to spend my last couple of weeks training doing epic rides with little stress. London Loop was to be a long Z2 day, there was no need for VO2 sessions to prep.
I don't know how it looked from the outside, but the final details were haphazardly put together from the inside. We didn't really know the intricate details of the route. My attempt to source a waxed chain failed, and I finally got my hands on one the evening before the ride. Cutting it to length less than 12hrs before I was due to start, it was jumping all over the place. Ah well, it'll do.
We originally planned for me to start at 7:30am. We were still changing brake pads and trying to call my mechanic friend just after 8am.
The bike ran beautifully. Yeah, I'm obliged to say that as I'm a sponsored athlete, but honestly it was a dream. There's something to be said for riding a machine that you've carefully chosen each part. The frame, the wheels, the bars. Honestly it was great.
Kicking off and down the hill from the Parcours office I was confident. All of the models showed that as long as I could average between 260w and 280w, I'd be comfortably within the seven hours. What my modelling didn't allow for was the stop-start nature of commuter belt towns. For the first hour I hardly put any power down.
Against all advice, I threw caution to the wind with pacing. Any opportunity I got on an open stretch of road I'd push on, any town I'd treat as a rest. It was just a big over-under session. In the end, I threw pacing by power out of the window too. My Stages power meter simply acted as a warning tool as I'd try not to go too hard.
In essence I'd ride it like I would a '10', with speed being the aim, not power. Any descent over 50kph I'd come off the pedals, out of the position and do a safe super-tuck. Yes, maybe I could go 2kph faster being on the pedals, but I'd save huge amounts of energy not being on the pedals. It was the school of pacing that Dowsett had effectively taught me since my junior years. Be efficient, use your power wisely.
I was significantly behind pace when I reached the first checkpoint, Dartford Crossing. The thing with the London Loop is that unless you start and finish at opposite sides of Dartford, you've got to get in a car. You cannot legally cross Dartford by bike. There's a shuttle bus which you can call when you arrive, but with a follow car in tow we made the decision in advance to get in that. Yeah, it's not perfect but it was one less logistical headache.
I cracked on from Dartford, happy to be on fast open roads. Then I hit the Essex Lanes. If (when?) I do this in future I'll probably swap to a road bike for the lanes. They're windy, they're narrow and they all have a crap road surface. They're the worst type of road for a TT machine.
Through the lanes there were some heinously steep climbs too - running a 58 one by set up on the front is all well and good until you hit steep climbs. I can confirm 58x28 is not an easy gear.
I took my visor off at one point. Using a mirrored visor is great, but going through narrow country lanes and around tight single-lane corners I was effectively blind due to the weird lighting coming from the trees. I say effectively blind, I was fully blind. There was a 10km section when I simply couldn't see around numerous corners. That went into the car, and I cracked on.
I was comfortably uncomfortable going into the final two hours. Simply in get home mode. Monkey ride bike. Monkey eat food. Monkey not think.
Up and over the highest point of the day, I was starting to descend and begin my kick back home. It was down a descent and hissssss. The unmistaken sound of a tubeless puncture. I'd already punctured once already, my rear tyre had a slash in the sidewall that couldn't seal effectively causing a blow out. A rear is easy to save…
A front blow out is every bike rider's worst nightmare. I don't know if I heard the hiss or felt the air go from my front tyre first. Another sidewall slash, creating another effective blow out. I'm going at 51kph, I manage to brake and ride the half-rim half-tyre. I manage to slow down to 30kph when I wipe out.
It was like riding on ice, my front end went from under me. It was a steep descent, I guess between 8-10%. There's pot holes everywhere, it's gravelly. If I'd have saved that it would have been legendary. Save it I did not, bloody I was.
The right side of my Velotec PRO 8 was in pieces. I was bloody but the photos are worst than the reality. Dov, the founder of Parcours who was driving the follow car, rapidly goes to change my front wheel but I'm done. I'm in pain, it isn't a stage race, there's no need to finish for the sake of finishing.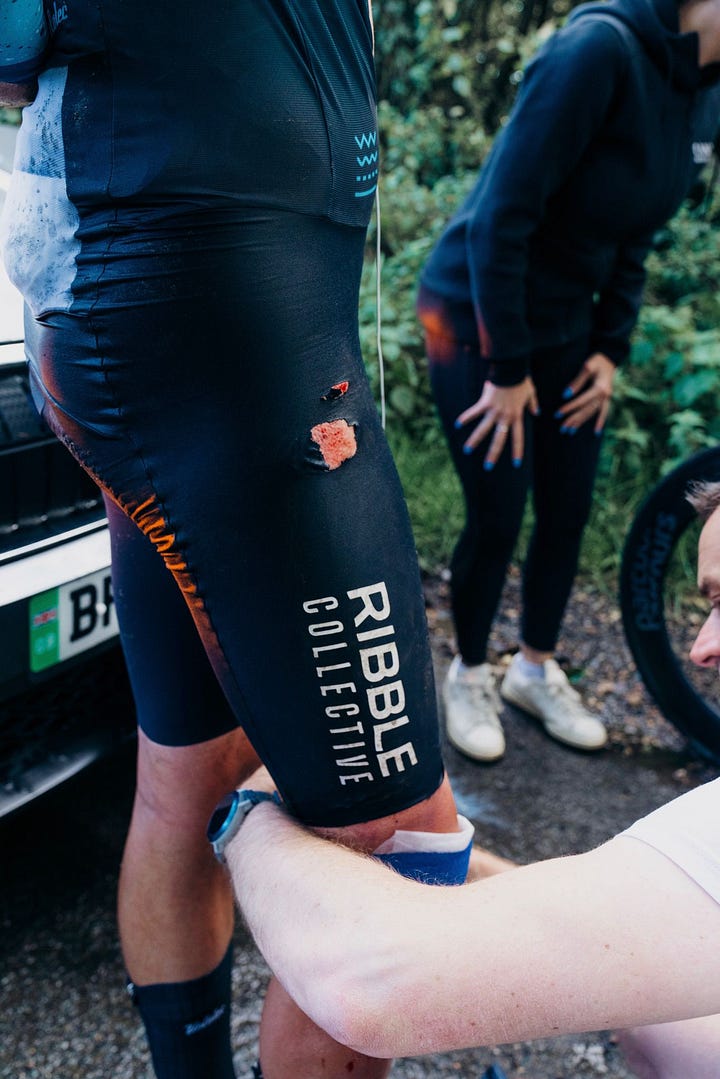 Back at the workshop we'd eventually see that both sides of the tyre sidewall was sliced. By what or how I don't know, I've never seen or heard of that happening. Although I'd both ridden the bare rim and smashed the front wheel, there wasn't a mark. It was almost perfectly true. If that's not a glowing reference for Parcours, I don't know what is.
I crashed after 215km. So close, but so far. Sub-7hrs wasn't happening but I'm annoyed that I didn't finish.
---
What I hadn't considered was the response that this whole thing would get. A couple of my mates who live or work on route dropped me a text about tracking so they could pop out to cheer.
To make my life easier, I decided to make a WhatsApp group and and put my live location in there. I banged the link to the group chat on my Instagram story and put my phone down the back of my skinsuit. Looking after the event when I got to my phone, there were sixty or so people that had followed on the group chat and giving updates.
A special thanks goes to the Yellow Jersey group who came out with cowbells early on to shout, and sorry to those who were going to come to the finish. There's a pot hole just outside of Fulmer that you can blame. To everyone, thank you. It means a lot more than you realise.
I'll be back. I've got unfinished business with London Loop. Might give Paris 2024 a crack too. Riding a loop of Paris makes up for not going to the Olympics, right?
Until then, it's time for off season. It's time to relax, have a couple of beers and a lie down. It's been one hell of a season and next one is already shaping up to be a mad one too.
If anybody wants to get involved with the Project TAG plans next year, drop me an email on: jtlcycling@gmail.com
---
Project TAG, proudly partnering (both for my athletic and influencing ability) with…
---
While you're here…
I've added both paid subscription and a 'Buy Me A Coffee' link to this post. As the year progresses, I'm planning on building this blog and putting out articles which I've always wanted to write but for whatever reason, haven't wanted to pitch.
Any money that I make from either my Substack, or BMaC link will go straight back into supporting my 2024 racing project. I am planning on keeping all content on here free to view though.
https://www.buymeacoffee.com/joelaverick
Joe Laverick is a reader-supported publication. To receive new posts and support my work, consider becoming a free or paid subscriber.